Academia often upholds its roots in paper and pen with more traditional forms of scholarship. Yet, to prepare students for the working world beyond college might mean to further embrace video and media, not only as something to be consumed, but as something to be produced.
In moments of reflection, I find myself pondering the possibility of doing more than writing an essay – maybe creating a video or podcast instead. Perhaps, instead of watching videos, I could be creating them. If other Northwestern students also feel this way, perhaps authoring a video essay or an informational podcast could be enough to end academic nonchalance in students and bring them into the exciting world of digital media. This sort creation through digital learning could have the capabilities to not only deepen understanding of content through creative synthesis, but serve to combine traditional education with technological learning, leaving students with additional skills needed to be successful in the increasingly technological future.
Working as a student employee at the MMLC has introduced me to the possibilities of these digital avenues. At the MMLC, we provide a variety of services, tools and guidance needed to make professional-grade projects.
To help create these projects are the Voice Over Recording Suites.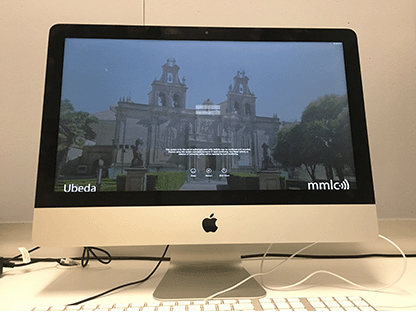 Inside each Voice Over Recording Suite is a state-of-the-art Mac desktop computer, complete with a multitude of applications and Creative Cloud capabilities. Not only are the programs available the most commonly used in the media world, but the higher resolution and greater screen space allow for students to work on many moving parts of a project at once.
The studio monitors, or, to the less technologically savvy, studio speakers, serve to produce sound clearly and with a wide range. Every minute inflection-change within a word's pronunciation is reproduced in the monitor's sound (which is perfect for language classes). Each speaker sits upon a mount that inhibits vibration, clearing the sound of the speaker, as you no longer hear the speaker vibrating against the desk.
For all those podcast presentations or video essay voice-overs, there is a microphone mounted on an articulated arm, with a shock mount, and a pop filter (to be explained, don't worry). The articulated arm allows the microphone to have a range of motion, so that sound can be recorded from the best angle. The shock mount, like the mounts for the speakers, keeps the microphone steady, so any movement of the arm will not impede upon the quality of the sound. The pop filter clears the sound, so muffling is not a problem. These microphones give a profession to sound that the iPhone just can't.
This Roland SuperUA audio interface, connected to the microphone, is part of the way audio enters the computer. Its sleek design may look simple, but it can record sound at 352.8 kHz, which, if recalling the days when CDs were considered "high fidelity," is 8 times the 44.1 kHz audio resolution of a CD.
And just in case you are ever wondering how hard Northwestern students are working, there is an IN USE sign above the doorway that can be turned on anytime someone is using the space. The IN USE sign serves not only to alert people passing by to be respectful of students in the space, it also serves to create an isolation that allows students to become immersed in their work. The suites are padded with echo-canceling foam, allowing students to attain profession results in their projects.
Last year, Classics Professor Francesca Tataranni put together Ancient Rome in Chicago, a project with her students, using Northwestern Knight Lab's StoryMap and the media editing suites in the MMLC. This winter, John Bresland is using the suites to teach a Video Essay course.  And, Michael Kramer, is teaching Digital History – Berkeley Folk Music Festival.
Though the suites are well-equipped as is, there is, the MMLC is planning to create an electronic scheduling system for the suites, which will be displayed outside the door. Until then, an online schedule, too, is somewhere in the works, so students can check room availability at any time, from anywhere. The Voice Over Recording Suites are open to any class who would like to use them. They can be found in Kresge 2531 and 2533.
Here is how faculty can reserve the space:
Email rooms@mmlc.northwestern.edu with information about how the space would be used (ie. video or audio assignment). Tell how many students would be using the room and share a list of names with the MMLC. All students must be registered with the MMLC in order to use the room, and once this is done, their wildcard will give them access 24 hours a day, or whenever the rooms are available.
Since multimedia learning is a new avenue of scholarship and often unfamiliar to even the most seasoned professor, the MMLC has staff trained to help integrate media into more traditional courses. If you have any questions or concerns as to how the suites could be implemented into curriculum, stop by the MMLC or make an appointment.