The Oscars are upon us—the culmination of the glitzy awards season that ultimately crowns the best films of the year. Among the various contenders, the Academy of Motion Picture Arts and Sciences selects one film that is produced abroad to win Best Foreign Language Film. With notable films such as La Strada, 8½, and Life is Beautiful, Italy has fared well in this category, with 14 winning films and 31 nominations over the years. This year, films from Iran, Germany, Sweden, Denmark and Australia have received nominations.
Watching these films can not only expose you to the creative cultures of other countries, but they can also be great media for gradually picking up nuances of a language. While we await the grand winner on Sunday, here are some pieces of creative brilliance that you can start with: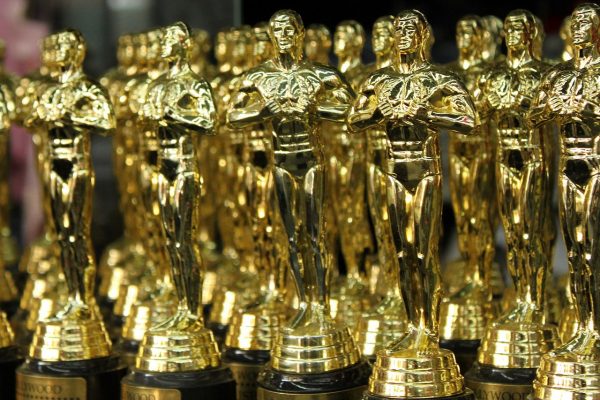 Previous Awardees of the Best Foreign Language Film 2008-2016.
The Counterfeiters (2008): The German drama tells the story of Salomon "Sally" Sorowitsch, a master counterfeiter, who is arrested and thrown into a concentration camp in Germany during World War II.  There, he finds himself being assigned to lead a group of professional conmen in producing counterfeit foreign currency under a program known as Operation Bernhard.  While Salomon wants to boost the German war effort, his teammate Adolf Burger is determined to stop it. When conscience starts to creep in, Salomon must decide what to do.  (Find it at the Northwestern Libraries)
Departures (2009): The Japanese drama musical revolves around Daigo Kobayashi, a newly unemployed cellist, who moves back to his hometown with his wife. When he finds a job posting titled 'Departures', he decides to apply—only to then find out that it is as a Nokanshi, someone who prepares dead bodies for entry into the next life. He takes the job, much to his wife's despise, and through it, slowly discovers the meaning of life. (Find it at the Northwestern Libraries)
The Secret in their Eyes (2010): This Argentinian-Spanish project tells the story of a retired federal justice agent, Benjamin Esposito, who decides to write a novel on an old unresolved homicide case so he can get some closure. In investigating the 25-year-old brutal rape and murder of Liliana Coloto, Benjamin also comes face to face with his former chief, Irene Menendez-Hastings, a woman he continues to be passionately in love with. Needless to say, revisiting the case brings up some haunting memories. (Find it at the Northwestern Libraries)
In a Better World (2011): The Danish drama revolves around Anton, a doctor in an African refugee camp, who hails from Denmark. As his separation period with his wife slowly leads to divorce, he also finds that his eldest son Elias is being bullied in school. When a new kid, Christian, comes to Elias' defense, the two boys initiate a strong bond. However, things start getting awry when Christian pulls Elias into a plan that puts both their lives in danger. (Find it  at the Northwestern Libraries)
A Separation (2012): The Iranian melodrama follows the lives of Nader and Simin and their 11-year-old daughter Termeh. Friction arises between the couple when Simin wants to move abroad with their daughter to provide her with better prospects but Nader wants to stay back in Iran to take care of his father, an Alzheimer's patient. As divorce seems imminent, a woman named Razieh comes into to care for his father and a chain of events is set in motion. (Find it at the Northwestern Libraries)
Amour (2013): The French romance-drama tells the story of Anne and Georges, an elderly couple living in Paris. Their comfortable lives are tragically disrupted when Anne suffers a stroke that paralyzes her right side. Georges refuses to admit her to hospital or a nursing home and instead decides to take care of her himself. Their relationship is tested as Anne's faculties deteriorate. (Find it at the Northwestern Libraries)
The Great Beauty (2014): Jep Gambardella is an aging journalist whose claim to fame was one best-selling novel.  Some unwarranted surprises on his 65th birthday brings a grinding halt to his extravagant socialite life and he finds himself looking beyond the debauchery and money he has survived on all these years. He soon embarks on a journey to find the meaning of life. (Watch Online via Kanopy) (Northwestern community only)
Ida (2015): Anna is a young postulate in 1962 Poland with little knowledge of the world outside her convent orphanage. Mother Superior informs her that she has an aunt, Wanda, whom she should visit before taking her final vows. After Wanda tells Anna that she is, in fact, Jewish, the two women take a trip to discover what happened to Anna's parents during the German Occupation and some dark family secrets emerge. (Find it at the Northwestern Libraries)
Son of Saul (2016): In the midst of World War II, Hungarian-Jewish Auschwitz prisoner Saul Auslander is tasked with luring other prisoners into gas chambers and soon thereafter, rummaging through their possessions. When he comes across the body of a boy he thinks is his illegitimate child, he decides to steal the body and take it to a Jewish rabbi for a proper funeral. When the plan is set in motion, other secrets and plots unravel within the concentration camp which could mean the end of the line for the prisoners. (Find it at the Northwestern Libraries)