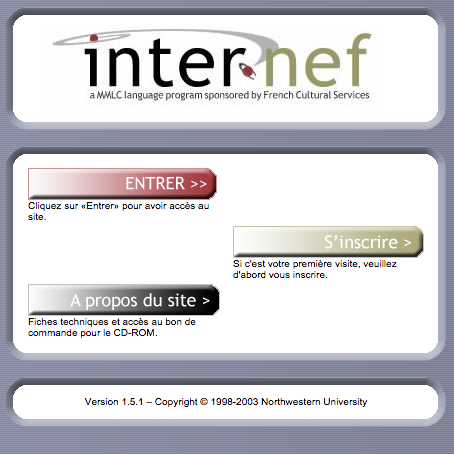 Internef is an ongoing development of the MMLC being carried out in conjunction with the Department of French at Northwestern and the Cultural Services of the French Embassy.
Teaching the teacher: Recognizing the need for instruction in the nuances of the language, Internef attempts to address and inform such concerns for instructors of French language and higher-level students.
Internef represents a beautiful illustration of a well respected equation: Langauge + Culture = Comprehension.
Thanks to a diverse series of interviews originally filmed and edited by the MMLC, Internef provides media that stimulates the learning process among those who teach language. Through this media and a wealth of accompanying contextual narrative and related links those who interact the site can gain a significantly greater cultural understanding.
To date, ten teaching modules have been developed, each covering different cultural and linguistic nuances.
For more information and/or to order the accompanying CDROM, please visit the Internef overview at the French Cultural Services web site.
Janine Spencer and Claude Toussaint Tournier led content and pedagogical design of Internef.