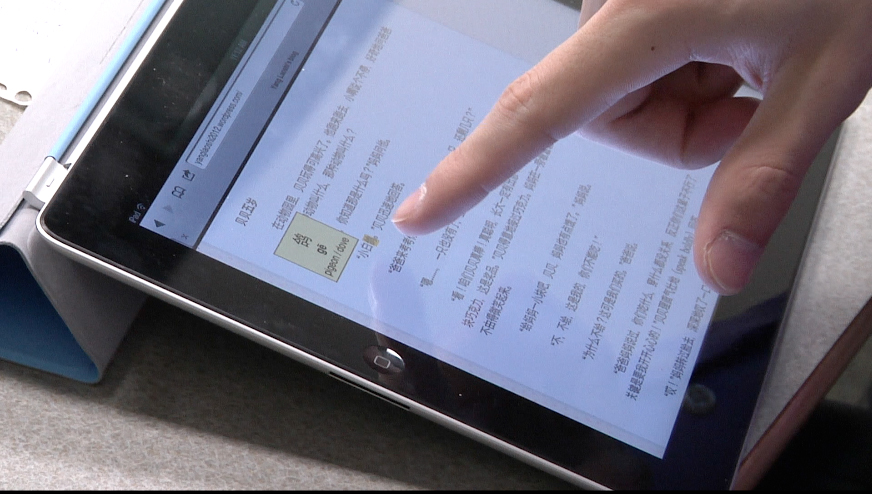 So the big news around these parts lately is that the 2 year iPad study taken on by Franziska Lys has ended the research phase, so now we can take what we learned from supporting these classes and apply our iPad resources to what we at the MMLC feel would be most helpful.  So what exactly do we think will be helpful?  Having different ways of circulating our iPad inventory, that's what:
The status quo: 2-3 classes per quarter (depending on enrollment numbers) where the students get to keep the iPad all the way through finals week and personalize their iPads just as if they bought them straight from Apple.  Some of these will also be set aside for Faculty teaching these classes in case they do not already own an iPad.
For faculty who want to play around with the iPad/get to know how to use it: We'll have one iPad for faculty to check out for a week, and also given with Factory Settings so professors can set it up as they like.  Another will be set up in the lab, built with apps and loaded with media so Instructors can get to know apps that the MMLC have found to work well in the classroom.
The exciting one: An iPad cart meant to be used for classes with enrollments up to 15 students and 1 instructor!  This cart will be treated like all of the MMLC's other reservable equipment, and can be reserved/checked out for 3 hours up to the end of the day.  The iPads on the cart are meant to be used for activities that are short term and require no personalization or set up.  These iPads will be given out to Faculty to be distributed and then collected at the end of the class period, and since we know that 50 minutes goes quickly, the iPads will be set up with a specific apps that the MMLC has found to be useful.  Each will be set up with sequential pre-made accounts, so ideally an instructor would wheel the cart into the class, hand them out, and start iPadding [not an actual word].
I want to focus on the exciting one, of course.  I'll take you through the process of reserving the cart, what kind of questions you as an instructor should ask yourself, and most importantly, exactly what kind of activities you can do with the cart.  The key to using the cart, as with many things in life, is to plan ahead.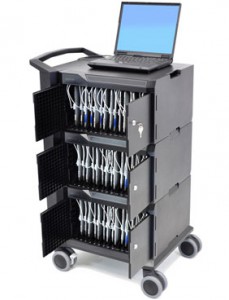 Since this cart will be all about immediate usage, we need to make sure that both the cart and you as the professor are prepped and ready for the class, which is why making the reservation in advance is so important.  You can make a reservation for the cart in one of 3 ways:
A) email us at circ@mmlc.northwestern.edu
B) call us at 847-491-4167
C) our favorite way, stop by the lab desk in Kresge 1-335
When you make a reservation, you should already know the answers to the following questions:
What activities do I want to do with the students?  If you don't have a clue about this, this blog might help you come up with some ideas.  If you really don't know what you want to do with your students – perhaps just schedule a consult with someone at the MMLC.  It's perfectly acceptable to just want to explore your options before diving in.
What apps will you be using to do these activities?  Are they already on the iPad, or will the MMLC need to add them to the iPad ahead of time?  Though we don't have one at the moment, we'll be publishing a list of apps that will be included on the iPads on the cart.
Do you need to distribute any material to your class (from a Collaborative app such as DropBox or GoogleDrive)?  Do you have this set up on your own computer yet [hint: you will need to set this up on your computer, and we can help you do it so long as it's planned ahead of time].
Do you have any specific language or dictionary settings you need activated on the iPad?
On to the activities.  After reviewing all of the rubrics for the classes that participated in the iPad study, it seems that at least for language professors, the main goal of the class was to make students better at
Writing
Reading
Listening comprehension
Being more comfortable with speaking.
At the same time, the MMLC has identified categories of activities that the iPad is well-suited for, each of which can address one ore more of those goals.  Keep these in mind, I'll refer to these categories periodically.
A) Communication – being able to talk with others, back-channeling
B) Collaboration – sharing files, working together on things
C) Media Consumption – reading, surfing the web, watching videos, listening to audio, annotating
D) Content Creation  – drawing, writing, making videos
E) Presentation — more than just making the usual slide shows, having an iPad for presentation can sometimes promote interactivity with your students.
Now that you know what kind of parameters we're working with, let's talk about things in terms of a Professor's goals. The best way of improving is that age old thing – practice.  So what are things you can have students do in an hour?   What are things that one can do on the iPad that are self contained?  For activities that do not require personalizing the device with a student's information, the iPad is especially powerful in terms of Media Consumption, Content Creation and Presentation – all of which are helpful for honing reading, writing, listening and speaking skills.
iPad as an Interactive and Extremely Current Textbook
Reading and listening comprehension, here it is.  Taking advantage of the dictionaries on the iPads is a major help as it allows students to read quicker.  Even more than that though, with the internet in the palm of their hands, your students have access to limitless articles, some of which are hot off the presses.  An example of an activity one could do is something that Noriko Taira Yasohama did with her Japanese students – the students were tasked to find an article online, speed read it, and within 10 minutes present a verbal summary of the reading to a partner who would record their speaking.  Instead of presenting their findings, you may just want your students to annotate whatever they read or make a written summary, and there are several note-taking apps available in order for your students to do so (e.g. Noteability, Neu Notes, Good Reader).  In addition to news articles or scholarly journals, access to the web also includes blogs or forums that students can interact with.  And this sort of media consumption followed by summation is not limited to the written word – with the iPad, students can also access videos to improve listening comprehension – they can watch them and comment on them with little fuss.
iPad as a Readily-Available Web Browser
Similarly, the browser (Safari) allows the students to be online and therefore have access for research.  You can do something like Rami Nair did with her Hindi class – when students were given a word or a term, they had to research and present to their peers a definition of the term (for example "a knight"), complete with pictures and/or videos.  Another possible activity could be something that Chungsheng Yang had his Chinese students do, which is have his students find images to represent idioms.  The portability of the iPad in a sense makes whatever classroom you are in into a computer lab.
iPad as a Self-Contained Learning tool
The great thing about the iPad is the number of apps available to you and your students.  There are thousands of apps that are geared toward education, many of them to suit your needs (you just need to find them).  There are specific vocabulary games, such as Word Tracer, which many Chinese classes used for students to remember the correct order of strokes when writing characters.  There are Flashcard and Quizzing apps, which were employed by Judith Wilks' Turkish class to help with memorization of the vocabulary lists for each unit.  There are even apps to use real world data in the classroom, such as one used to track the Euro in Katrin Voelkner's Business German Class.  Or a Meme Generator that was used in Benay Stein's Business Spanish class.  These apps seem like games to the students (and indeed they are!), but they can easily and quickly be done in a classroom setting.
iPad as a Creative tool
Even without recording, just having students speak via presenting to you or their peers is good practice.  There are several presentation apps that allow students to make something more than just a powerpoint presentation.  With web access they can use Prezi, but also there is Slide Shark, Keynote or Doceri (which allows for real time annotation of the presentation).  Students can make their presentations interactive with immediate feedback using an app like Top Hat (which acts like a mobile device version of 'Clickers').  What's great about all of these apps though, is that it's possible for students to put together a presentation in less than an hour if they have all of their content readily available (which they do!  Either you can provide pictures or videos or articles, or the entire internet is at their fingers – just as Rami Nair's class did as mentioned above).  Sometimes a student presentation does not even have to be long – it could be a single image either drawn (like Margaret Dempster's French class did using the Doodlecast Pro app) or a collage in the style of a Comic Book, which is something that Marie Hicks, a professor at the Illinois Institute of Technology (IIT) does with her students.  The ease of the tools coupled with access to content on the internet can allow your students to be creative.
Taking presentation further to recording however is incredibly powerful because it gives the option for students to review how they're doing.  One thing that is agreed upon across the board is that it's helpful for students to be able to watch and listen to themselves speaking – what they hear in their heads while speaking is not necessarily what everyone else hears. They can listen to their pronunciations, right or wrong, and then make adjustments in the future.  To this end, the iPad is one stop shopping for this – the iPad has a camera, it can record audio, and it has editing tools that are easy to use (such as iMovie).   One activity that Ana Williams and Raquel Amorim have been doing in their Portuguese classes (without the use of an iPad) is have the students produce a commercial.  They do this in class with a regular camera, and the commercial is a single shot.  They then have to wait for the videos to be processed before the students can review it.  In January of 2013, the MMLC hosted a workshop for faculty and we based one of our exercises on this – we had faculty split into groups, choose one of the products we provided, write a commercial collaboratively (in English, using Google Docs) and then shoot the commercial.  The MMLC then spent 10 minutes showing the faculty how to edit, and the entire commercial was completed in 50 minutes.  The results were quite good, especially considering that typically students are quicker than faculty when it comes to picking up how to use technology.
These are by no means all of the ways you could use the iPad with your students in an hour, but hopefully it will get you thinking.  Having one device that is capable of all these things is fun, but preparation is key on the part of the instructor.  While everything is fairly intuitive, our interviews with the students made it clear that the more thought-out the assignment and the more established a projects' parameters, the better the students responded to it.